FREE SHIPPING on Orders $65 and Up (excludes Team & Team Hub Orders)
Shipping & Delivery Information
The shipping information below pertains to orders placed on our retail website, SoccerVillage.com. If you need information regarding an order placed on Team Hub, please call 1-800-483-2690, option 1
All orders will be shipped as soon as possible; however, all orders are subject to availability of merchandise. Back-orders will be shipped as soon as manufacturers can supply. Primarily we ship Federal Express (FedEx) or United States Postal Service (USPS). You will be given the option to ship Standard Overnight, 2-Day, Express Saver (3-Day), FedEx Home Delivery/Ground and USPS. The additional costs to upgrade your shipping will be calculated for you at the time of checkout. If the items are in stock, the normal processing time is 1-3 business days. Upgrading your shipping method only expedites the transit time once your package has left our warehouse. Once your item(s) ship, the standard shipping time depends on the shipping method and delivery address. Please refer to the map for estimated transit times and also the Delivery Time Example below. You will receive a confirmation email after you place your order as well as an email when the order ships that includes tracking number. If the items are not in stock or are on back-order, we will notify you within 1-2 business days. Customers will be notified by email to the email address given on the order. Customers can then substitute or cancel these items if they wish. Please note: USPS DOES NOT DELIVER ON SUNDAY. CERTAIN HOLIDAYS ARE ALSO UNAVAILABLE FOR DELIVERY (Call Soccer Village for details.)
Delivery Time Examples:
Shipment Date - Thursday
Arrival Date for FedEx Standard Overnight: Friday
Arrival Date for FedEx 2-Day: Monday
Arrival Date for FedEx Express Saver (3-Day): Tuesday
Arrival Date for FedEx Home Delivery/Ground: 2-5 business days in transit
Arrival Date for Economy Shipping (USPS): 4-8 business days in transit
International Shipping
We do NOT ship outside the continental U.S.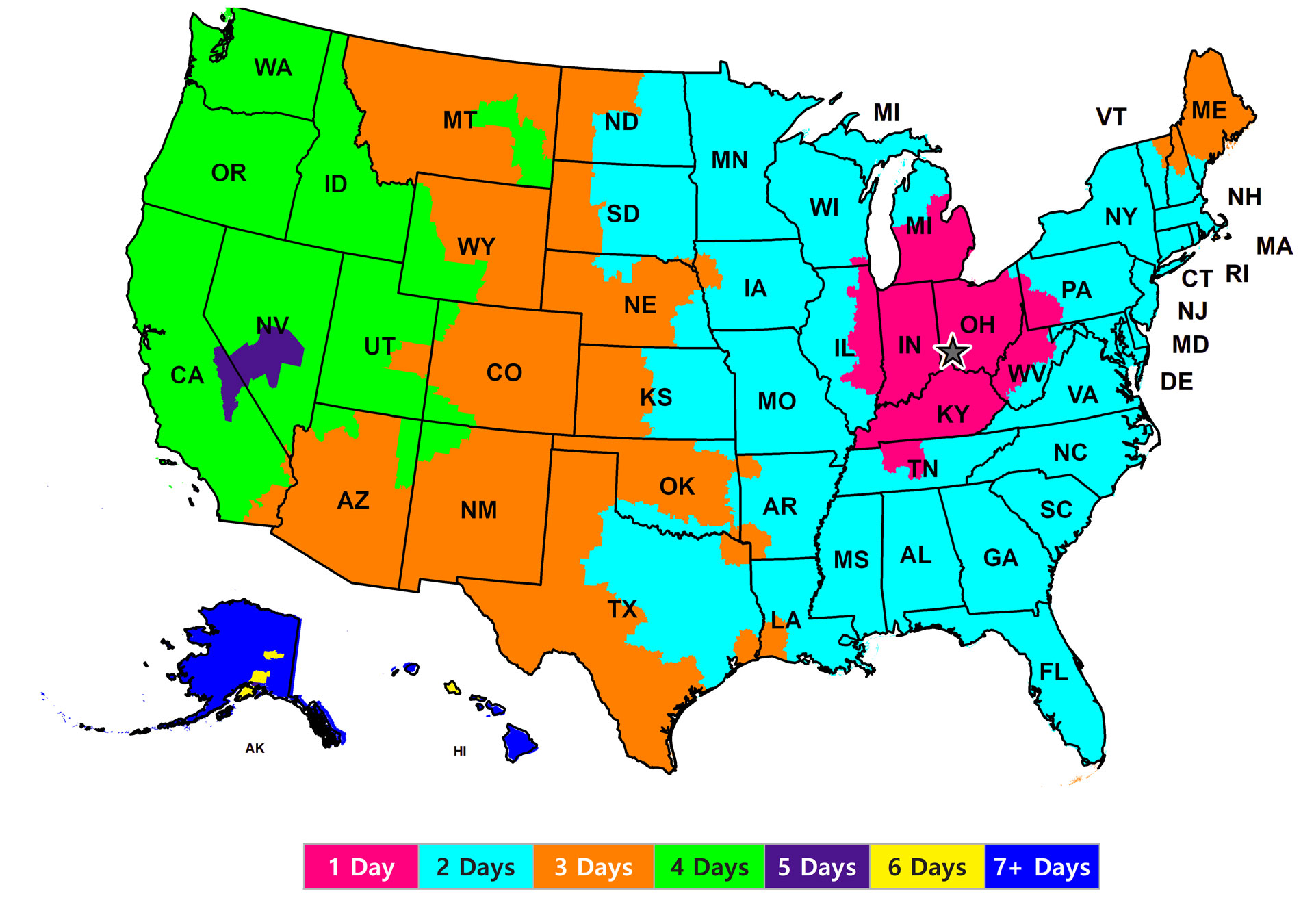 Please Note:
Orders must be received by 11:00 am Eastern Time and merchandise must be in stock to honor special delivery requests. Any RUSH DELIVERY orders received after 11:00am EST Friday through Sunday will not be shipped until the following Monday at the earliest. No shipping method is guaranteed. Please take into account our processing time as mentioned above. Upgrading your shipping method only expedites the transit time once your package has left our warehouse. If you have questions about when your order will ship, give us a call at 1-800-483-2690 option 2.
Orders that receive free shipping will be shipped by United States Postal Service (USPS)
Orders receiving Free Shipping must meet or exceed the minimum purchase amount before tax and after any applicable promotions or discounts are applied
Large goals, PUGG goals, field equipment and other over sized items DO NOT qualify for Free Shipping. These items will be drop shipped directly to you from the vendor.
Team Orders DO NOT qualify for Free Shipping
Individual club orders placed on Team Hub do not qualify for Free Shipping promotion
Clearance Footwear orders may be shipped without a shoe box and may be shipped without the shoe bag (if applicable to the shoe)
Soccer Village has the option to decline any Special Orders and/or Drop Ships for product that is on Clearance/Sale
Any orders for soccer balls will be shipped deflated. This helps to keep shipping cost low, which in turn benefits you.